What is Schizophrenia?
Most people have heard the term schizophrenia. It's a mental health pathology wherein people interpret reality abnormally. To oversimplify to make a point, in a 'normal' brain, the left and right hemispheres operate together to regulate bodily functions and to interpret the world we live in. In brief, schizophrenia is a condition where the left cerebral hemisphere overly dominates the right. Some might be led to believe that schizophrenics interpret reality irrationally, but the opposite is true. Schizophrenics are hyperrational to a fault.
Schizophrenia has been on the rise this past half century or so, but this might just be a symptom of Modernity, as cultures are also experiencing a leftward shift—a shift toward hyperrationality. Cultures have swung like a pendulum from left-hemisphere-dominance to right dominance and back through the ages, but we may be seeing an uncorrected swing further and further to the left, led by science, followed by commerce and politics, dangerously close to the territory of schizophrenia, if not already occupying this territory. Allow me to briefly summarise how the hemisphere function to help the reader understand what it means to be too far left or right.
Cerebral Bilateral Hemispheres
Most people experience the world—what some otherwise known as reality—with both cerebral hemispheres, and each hemisphere has a function. In a nutshell, the right hemisphere experiences reality holistically, which is to say that it views the world through a Gestalt lens. The right hemisphere is open and divergent. It is creative—generative. It knows no categories or subdivisions. All is one and connected. I like to refer to this as Zen. Many people can relate to this Zen notion. The right hemisphere is a creative and empathetic centre that only knows the world as it is presented—without words or naming. Intuition lives here. It distinguishes differences in the world in a manner similar to that of a preverbal child who can tell mum from a bowl of porridge without knowing the word for either. Children are right hemisphere creatures. As we mature toward adulthood, the function of the left hemisphere increases to offset the dominance of the right.
The left hemisphere is the sphere of intellect. Its function is to categorise, to create symbols—words, names, labels, icons, and so on. It doesn't know how to create, intuit, or empathise. In fact, it doesn't even experience the world as presented; it relies on re-presentation. To borrow from a computer analogy, when it experiences something in the world, it caches a symbol. Where the right hemisphere experiences a tree and just appreciates its 'treeness', and it doesn't know that it's a tree by name. It's just another thing in the world. The left hemisphere, on the other hand, notices these things with 'treeness' and categorises them as trees—or des arbres, árboles, Bäume, 木, درختان , पेड़, or whatever. And it reduces the tree to an icon, so it can file it away for later retrieval to compare with other tree-like inputs.
The left hemisphere is where difference, the sense of self, and ego come from. Where the right hemisphere is open and divergent, the left hemisphere is closed and convergent. It is particularly egotistical, stubborn, and always thinks it's right if I can anthropomorphise analogically. The left hemisphere knows no nuance, and it doesn't recognise connotation, metaphor, allegory, or allusion. Everything is literal.
The left hemisphere can use similes and understand that a man is like a tiger, but it takes the right hemisphere to know that a man is a tiger, has metaphorically embodied the tiger and assumed its form, say in the manner of indigenous Americans. Poetically, there is a difference between being a tiger and being like a tiger. The left will have none of this. The response to hearing 'he was a tiger' would either result in 'no he isn't, he's a human' or 'someone must be talking about a male tiger'. The nuance would be lost.
At the risk of further digression, this is why a poem can't be dissected for meaning—this despite so many valiant attempts by high school teachers and undergraduate professors. Dissecting a living poem is like dissecting a living animal. You might learn something, but at the risk of devitalisation—you've killed the subject. It's like having to explain a joke. If you have to explain it, it didn't work. You can't explain a work of art or a piece of music. The best you can do is to describe it. Although we're likely familiar with the adage, "A picture is worth a thousand words", a thousand words is not enough to do more than summarise a picture. This sentiment is captured by Oscar Wilde when he wrote, "Education is an admirable thing, but it is well to remember from time to time that nothing that is worth knowing can be taught." Education is a left-brain function, that can be stuffed like a sausage, but no amount of education can make someone feel a work of art, music, or poetry. This can only be experienced and is apart from language.
A Tree is not a Tree
As already noted, schizophrenics are hyperrational. They are devoid of the empathy and intuition afforded by the right hemisphere. So, they fail to connect the parts to a constructed whole. They presume that a whole is constructed of parts. This is the mistake of Dr Frankenstein, that he could construct a man from parts, but all he could manage is to construct a monster.
In the experienced world, there are only whole objects as experienced by the right hemisphere. As humans, we break them down for easier storage and retrieval, but this is like lossy compression if I can risk losing some in technical lingo.
But a tree is not built from parts. It's just a tree. We can articulate that a tree has a trunk and roots and branches and leaves and seeds and blooms, but it's just a tree. The rest we impose on it with artificially constructed symbol language. This is what post-modern painter Rene Magritte was communicating with the "Ceci n'est pas une pipe" inscription in his work The Treachery of Images—This is not a pipe. He was not being cute or edgy or trying to be clever. He was making the point that the symbol is not the object.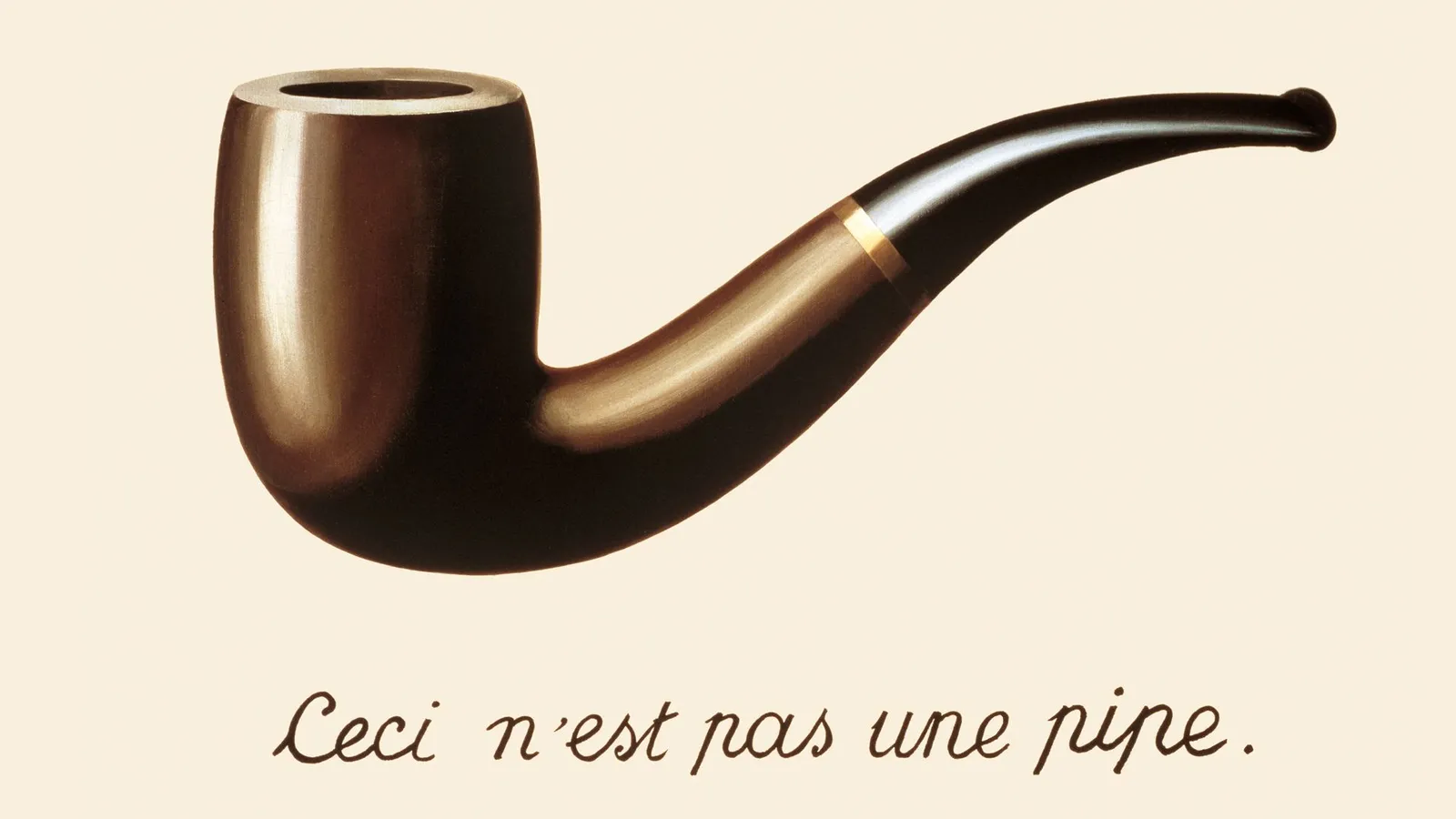 In the manner that the image is not the pipe, it's been said that to document a system is to make an inferior copy. The documented system is less optimal. This may feel counterintuitive. In fact, you may even argue that a documented system allows subsequent process participants to plug into the system to allow it to continue to operate into perpetuity. Whilst this is true, it comes at a cost. I'll leave this here for you to ponder. The right hemisphere understands the difference. The document is not the process.
Getting Down to Business
If you've been following along, you may have already noticed that the left hemisphere looks and sounds a lot like the business world. Everything is systematised, structured, and ordered. We have all sorts of symbols and jargon, processes, and procedures. Everything is literal. There is no room for metaphor. There is no room for empathy. HR instructs that there be empathy, but they might as well instruct everyone to speak Basque or Hopi. In fact, it's worse because at least Basque and Hopi can be learnt.
Sadly, this leftward shift isn't limited to the world of commerce. It's affected science, politics, and entire cultures. It's caused these entities to abandon all that isn't rational as irrational. But empathy and intuition are irrational. Science says if you can't measure it and reproduce it, it's not worth noting, but science is not the arbiter of the non-scientific realm. Business takes a similar position.
Politics of the Left (Hemisphere)
And politics creates categories: left and right, red and blue, black and white, men and women, gay and straight, and this and that. All of this is all left-hemisphere debate.
Categories and names are exclusive provinces of the left hemisphere. If you are hung up on an ideology, whether Democracy, Republicanism, Marxism, or Anarchism, you're stuck in your left hemisphere. If you defend your positions with logic and words, you're stuck in your left hemisphere. If you can't imagine an alternative, you are really stuck in the left. I'll stop here.
Science and Scientism
How did we get here and come to this? Science was receptive to right hemisphere influence up until about the 1970s. That's where Scientism began to take hold. Scientism is when faith in science becomes a religion. I feel that many scientists today are less likely to hold a belief in Scientism as a religious belief. Paradoxically, I think this is more apt to be a faith held by non-scientists. Unfortunately, this faith is exploited by politics as exemplified by the recent trust in science campaign perpetrated by politicians, which is to say non-scientists with their own agenda, whether they practised Scientism or not.
The problem is that the left hemisphere has an outsized ego. It thinks it's always right. In practice, it's right about half the time. Because of its reliance on stored data and a 'belief' that it doesn't need to fresh its data until it's effectively overwhelmed and acquiesced. It fails to give enough weight to the experienced world, so that it shifts belief further and further left, which is to say further from reality as it is.
It trusts the symbol of the tree more than the tree itself. We may all be familiar with stories of cars driving down train tracks and off cliffs because the SAT-NAV user put more faith in their device than the world outside. This is the risk companies face as well, choosing to believe that the documented process is superior to the system in and of itself.
Getting on About?
You may be wondering what inspired me to write this and where I get my information. My realisation started in chapter 9 of The Matter with Things and was reinforced by this video interview by its author, Iain McGilchrist.
Actually, it started even before this with The Corporation, a Canadian documentary and companion book released in 2003. One of the points of The Corporation is to articulate the parallels between corporate behaviour relative to the definition of psychopathy as presented in The Diagnostic and Statistical Manual of Mental Disorders, henceforth DSM. Per Wikipedia, the DSM 'is a publication by the American Psychiatric Association for the classification of mental disorders using a common language and standard criteria and is the main book for the diagnosis and treatment of mental disorders in the United States and is considered one of the "Bibles" of psychiatry'. Essentially, corporations ticked all the boxes.
Methodologically, this assertion is a bit weak, but it is at least sometimes entirely valid despite provoking an emotional trigger reaction. Nonetheless, this established corporations as pathological entities. But that is not my focus here. It simply tilled the soil for me to be more receptive to this topic. This topic is less about the legal fiction that is a corporation and more about the people embodied in it. From the height of the C-suite to the workaday staff, floor workers, warehouse workers, and the mailroom. Do they still have mailrooms? I digress.
I can't claim to know what it is to be schizophrenic or schizoaffective, but I've known enough people who have these diagnoses. My brother was one of those. Although I use these and other labels, I am not a fan of labels, generally, especially psychological labels, specifically this label. Autism is another nonsensical label. Both fall into the realm of medical syndromes, which for the uninitiated is the equivalent of your kitchen junk drawer. It's equivalent to the other choice when all others fail. I don't want to go off on a tangent from the start, so I'll leave it that these categories are overly broad and reflect intellectual laziness. There is no single schizophrenia or autism. There are many, but the distinction is lost in the category. The push to create an autism spectrum for DSM obscures the problem, but it helps for insurance purposes. As the saying goes, follow the money and you can gain clues to the driving force behind why this happened. I suppose you can also label me a conspiracy theorist. If I learned one thing in my undergrad Sociology classes, it's to eschew labels.
Almost finished
Given the length of this segment, I am not going to summarise it here, save to say that this leftward shift in business and culture doesn't have a good outlook. We are not only being replaced by machines, but we are also forced into becoming machines, and we aren't even questioning it. All we need to do is to become more analytic, right?
What I suggest is to watch the six-minute video of Dr Iain McGilchrist discussing this topic, and if you really want a deep dive, read The Matter with Things, an almost three-thousand-page tome, to fill in the details.
Postscript
Here's a music analogy to help to express why the whole is more important than the sum of the parts. If I want to learn to play a new piece, I will listen to the piece first. Depending on the length and genre, I may have to listen many times. In some cases, once or twice is enough, but let's say this is at least somewhat complex and not some repetitive three-chord pop song. I'll probably break the song into pieces or movements—verse, chorus, bridge, and whatever—, and then, I'll learn each note and each pattern of notes, perhaps as musical phrases. Once I figure out the verse, I might either learn how the next verse differs or move on to the chorus and defer that verse-to-verse step. I'll rinse and repeat until I've got through each of the sections. If I've had the luxury of hearing the piece, I'm at an advantage as far as tone, timbre, and dynamics are concerned; otherwise, I'd better hope these are all documented and that I interpret them in the manner they were intended. If the audience is familiar with a tune, they'll notice the difference.
When I am practising, I need to get the mechanics down pat. All of what I've described thus far is left-hemisphere fare. It's translating the symbolic representation of notes—like letters and words in writing—into an utterance. In this case, it's a musical utterance. But once I am ready to perform the piece, it needs to be performed through the right hemisphere or it will feel mechanical and stilted.
I used to earn my living as an audio recording engineer and producer. Most of the time I was working with unknown artists recording demo records and trying to get a record deal. For the uninitiated, that usually translated into not having a large recording budget. Occasionally, we want, say string parts—violins, viola, cello, or whatever—but we couldn't afford union players. We'd hire music students from USC or UCLA. These players would be more than willing to play for cheap in exchange for something to add to their portfolios or experience chops.
Somebody would transcribe the musical notation, and we'd give it to the string player. Of course, it could be a keyboard or wind or reed part, but I'll stick to strings. Part of music is the vibe. This is something that can't be captured in symbols. Revisiting Scientism and the left-hemisphere analogy, vibes can't be real because they can't be notated.
Almost invariably, if we got someone with Classical training, they could not get the vibe. The music was right in front of them. We'd play it for them on piano, maybe on a synthesiser, but they couldn't get it—even if they were playing along to a reference track just trying to double the synth part. They would hit every note for the specified duration and dynamic, but it might have as well been the equivalence of a player piano or music box. We could have played it on a synthesiser, but we might be seeking the nuance a real instrument would bring.
We never had the luxury of auditioning players or recording several players and grabbing the best parts. That's for the bigger-budget artists who go through a half-dozen or more performers to get just the right one. When we got lucky, it was usually because we got someone from the jazz program. These cats seem to have a natural feel for vibe inaccessible to the classical performers.
In business, the classical performer is good enough, but for art, it wasn't. Business might appreciate the difference if it happens to get it, but it won't seek it, and it won't pay for it. A pet peeve of mine is a quip in business I heard often—don't let perfection be the enemy of the good. This is obviously a left-hemisphere sentiment based on Voltaire's statement. Besides, even from a left hemisphere perspective, reciting, "Don't let perfection be the enemy of the good" doesn't mean you shouldn't at least strive for good enough because I noticed that mark was missed often enough, too.